Chiropractor Ramon Reyes, D.C.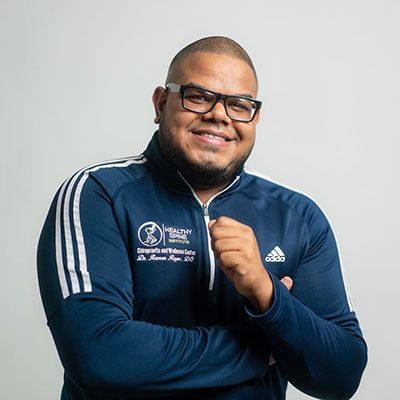 Dr. Reyes father of Isabella and Victoria grew up in Levittown, Puerto Rico. Graduated from Life University in Georgia with honors and participated in many clubs on campus and assumed various leadership roles as an active member of the Chiropractic community. Prior to studying at Chiropractic School, he attended the College at University of Sacred Heart in Puerto Rico where he received a B.S. in Exercise Science.
Dr. Reyes, in his years of experience, has kept treating a vast array of musculoskeletal conditions, neurological conditions, trauma, athletes and wellness patients.
Utilizing the most up to date, evidence-based therapies and Chiropractic adjustments in the field. He is an active member of the Florida Chiropractic Society and always is looking for how to contribute to the profession here in South Florida.
---
Experiences:
2019- Present- Owner of Healthy Spine Institute®
2017- Present- CEO in Hands of Diamonds (Chiropractic Mission Trips).
2018-2020 Clinic Director- Fort Lauderdale Family Chiropractic.
2017-2019 Rehab Specialist- Nexus Sports Performance®
2018- Speaker at Pan American Convention on Sports and Physical Activity.
2016- President- Sacro Occipital Technique Club (SOT)
2013-2015- Strength and Conditioning Coach Assistant - Triathlon Spot®
2013- Strength and Conditioning Coach Assistant- Cangrejeros de Santurce (Puerto Rico professional Baseball team)
2013- Strength and Conditioning Coach Assistant - Gatorade®
---
Techniques and Certifications:
Sacro Occipital Technique®
Applied Kinesiology®
Extremity Adjusting
Webster Technique®
Thompson Technique®
Activator Technique®  
Full Spine Technique®
OFFICE HOURS
---
Monday
9:00am - 1:00pm
3:00pm - 7:00pm
---
Tuesday
9:00am - 1:00pm
3:00pm - 7:00pm
---
Wednesday
9:00am - 1:00pm
3:00pm - 7:00pm
---
Thursday
9:00am - 1:00pm
3:00pm - 7:00pm
---
Friday
9:00am - 1:00pm
3:00pm - 7:00pm
---
Saturday
Closed